Why Quilt?
By Barb Bergquist
Have you ever asked yourself why it is you spend so much time, energy and money quilting? What drives you to quilt? I started some soul searching one day to figure out why I quilt and I found that it is not an easy question to answer. So I did what I always do and googled the question only to find out some expected, and some unexpected answers.
Friendship
Quilt making is an opportunity to be social. We gather in our communities with our neighbors as we work on quilting projects. We also gather at churches and in quilt shops. We join quilting clubs and quilt guilds so we can share with each other. While we connect through quilting, we open up to each other. We talk about our lives – our joys, our hardships, our families and our homes. We share ourselves with each other. Can you think of a better reason to quilt than to connect with others?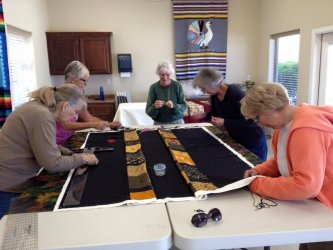 Comfort Others
Most of us know someone who is going through a struggle or facing a challenge. Maybe it is a natural disaster that a family member has suffered, or a friend who has been diagnosed with a serious illness. We just know that they are facing a difficult time and we want to comfort them. There may be nothing else we can do but give them a quilt to show our care and support. It may be just what they need to fight another day.


Bring Awareness
This is where we step up for charity. You raise awareness of a cause when you support a charitable organization's programs. It can be as simple as the purchase of a fundraiser's raffle ticket to win a quilt, or working on a quilt that will be raffled off by a charitable organization. You can support programs with the donation of a finished quilt to a charitable organization which uses it to supports those facing challenges in their lives. Many are ready and thrilled to take your quilt to help their cause such as Crafting4aCause. Check out your favorite cause and find out what you can do for them.


Warmth
Quilts keep people warm. They may warm the heart, but they also warm the body. And what better way to keep you and your family warm than under one of your own quilt creations!


Artistic Expression
Quilt making is an art form. I am sure you have admired the design, color and construction of many quilts. There are even those quilts that have been made to decorate your walls like any other works of art. This is not anything new, but the designs, fabrics and colors we use today express the style and form of art today. What work of art have you made recently?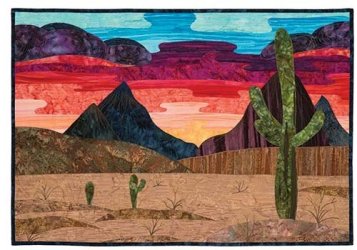 Gifts
We make quilts to give in celebration of a special occasion. I've given quilts as graduation gifts, wedding gifts, baby gifts and birthday gifts. These are the common occasions we recognize, but there are many others (Mother's Day, Father's Day, Christmas, etc.) But the occasion I like to celebrate best is the one where I give a quilt that says "Just because I love you!"


Décor
I don't know about you, but I love to decorate my home with creations of my own. Whether it is a lap quilt to put a pop on color on that neutral couch, placemats to carry the theme from your kitchen to the informal dining area, or a character quilt for your child's bed, you personalize your home with the quilts you make.


Relaxation
What better way to treat yourself than to make a time to work on quilting projects. Quilting is a great way to relax and release the stress of everyday life because it is something you enjoy doing. We all deserve time now and then to do something we enjoy, and even better when you set aside time regularly to quilt. And there is nothing more satisfying than finishing a quilt project and being able to enjoy the fruits of your labor.


Knowledge
Keep your mind active no matter your age by learning something new every day. You can accomplish this with a quilt class – online or on site, following blogs, reading newsletters, or just searching for answers for that question that's been nagging you. Better yet, stretch yourself by teaching a class, or sharing what you know with someone else. I've noticed that every time I teach, I also learn something new from those I am teaching. What have you learned today? Remember, learning keeps us young!


History
History starts when a needle meets fabric. Think about the craft of quilting and how it has evolved over time. Many of the earliest quilts were made for comfort or survival. (Remember them as padding under armor?) Then as man became aware of art during the Renaissance, quilts became an expression of their artistic drive. We know about the various quilts that have become famous over time – the slave quilts, the Amish quilts and the Civil War quilts to name a few – and we now work to recreate their styles. But we often don't realize that with every finished quilt project, we create a little history ourselves. Have you ever overheard family members talking about that quilt that Mom made, or the one that Aunt made, or that Grandma made? Think about the memories you associate with a quilt. Each quilt you've made becomes cherished because of the memories that go with it. So when you make a quilt, you are making history.


Expression of Who I Am
I am sure that there are more reasons why we quilt than those I've covered here. But I believe the best reason we quilt is because it expresses who we are. When we work on a quilt, we are putting ourselves into what we are doing.
For me, much of what I've made I've given away. I seldom start a quilt project without knowing where the finished product is going. As a result, the pattern, the colors, the design of the quilting, and even the size is chosen especially for the person who will receive this quilt. While I am working on the quilt, my thoughts are on the recipient, and often I offer a prayer or two for him or her.
If what I am working on is for our home, it reflects the style, color and design of our home. It expresses my personality, and my care for my family. And it shares who we are with those who visit our home, making them feel welcome and part of our family for the time they are there.
Mostly, though, quilting shows my love for people, for color and for design. It simply states – this is who I am!





Barb Bergquist along with husband, Ron, own A Block Away Quilt Shop. A dedicated quilter with more than 25 years of experience, she is now actively sharing her love of quilting through the work in her shop.