A Log Cabin
By Barb Bergquist
The Log Cabin block is a traditional design that is so simple but looks so intricate to non-quilters. Its easy construction is disguised by the color and layout which creates an amazing quilt. But before we get into the many looks of a log cabin quilt, let's talk about how you make a log cabin block.
As usual, you start with choosing colors for your quilt. Traditionally, a log cabin block is built with both light and dark fabrics, but you may can mix colors and prints to get a hodge-podge of blocks for a unique look.


The log cabin block is constructed using strips, and you can set the width of the strip to suit the finished look of your design. If you want to reduce the time spent cutting fabric, you can use jelly rolls and the following diagram gives you the measurements of the various pieces of the block using the 2 ½" width of a jelly roll. You can easily use this diagram as a guide when working out the math for strips of other widths. Or you can find a pattern that has the math done for you!


To construct the block, the next picture shows the order that you attach the pieces. You simply add strips around a center piece, circling it until you reach the finished block size. You will construct all the blocks that you need to get to the finished size of quilt you want. But now it gets interesting!
How you layout your blocks will make this quilt interesting. I could describe various layouts for you, but I think pictures do as much or more as words, so here are a number of layouts you could choose.
There are many more possibilities that you can explore if you just google "log cabin images." But what will make the quilt yours is if you layout the blocks and move them around until you get a look you like.
I'll share one last idea with you. Consider making a wonky log cabin. If you don't know what that is, anything you make "wonky" is constructed with varying size pieces. Your lines will all be straight, but the dimensions will be smaller at one end of a piece than the other, and likely, no two pieces will be exactly the same size. Here are examples of a wonky log cabin block and a finished quilt. Keep in mind, if you are truly making it wonky, no two blocks will be alike in looks (unless you make them wonky in the same way), just in finished size. You put it together the same way as before, building around the center piece. When you are finished piecing the block, trim the block to the desired finished size.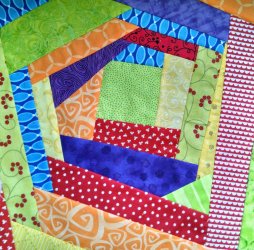 Let your imagination run wild and have fun with a log cabin quilt. Be creative in your color choices. Vary your layout so that it takes on a look that you like. And if you really want to have fun, try it wonky style. Having fun - that is what quilting is all about, right?!
Barb Bergquist along with husband, Ron, own A Block Away Quilt Shop. A dedicated quilter with more than 25 years of experience, she is now actively sharing her love of quilting through the work in her shop.