Back It Up
By Barb Bergquist
Today's topic is the quilt back. For years, quilts were backed with white or natural muslin, and though some people still use neutral backings, many are now backed with colors and prints. Today's quilters want the beauty to extend from the front to the back of the quilt.
Let's start first with the basics about backing, specifically, how to determine how much fabric you will need for your quilt back. You have choices for backing fabric these days. You can choose yardage that is 108" wide, or you can work with the standard 44" wide fabric and piece it. If you choose the 108" wide fabric, then you only need it cut to fit the smaller side of your quilt (assuming that neither length nor width is 108" or wider). Not much math needed to figure this out! But if you prefer to use a fabric that is only 44" wide, you likely will need to piece it.
To determine your yardage, you will need to know the length and width of the quilt top. Since it is easy to follow the math using real numbers, I will demonstrate using an imaginary quilt top size of 53" x 72". In general, if you are having someone machine quilt your project, you will need the backing to be 4" more on each side. (I would suggest that you talk with the machine quilter before purchasing any yard goods to learn what his/her requirements are on the size of both the backing and the batting.) Since there are two sides, that means 8" will be added to both the length and the width, making the backing size for our example, 61" x 80".
If you were using 108" wide fabric, you would only need to divide the measurement of the shorter side, 61" (since the longer is less than 108"), by 36" to determine the number of yards needed. 61" / 36" = 1.67444 yards. Rounding up to the next available cut measure, you will want 1 ¾ yards. But if we choose a 44" wide fabric, we have a little work to do. I will work first with the 80" length. Since my chosen fabric is 44" wide with selvages, I know I will lose a little width when the selvages are removed, but in most cases, I can count on 40" to 42" of usable fabric. To be safe, I am going to assume that I will get 40" after trimming selvages away so that means that I will need to double the amount of the width (80" / 40" = 2). 61" doubled is 122". Now dividing the 122" by 36" gets me 3.38888, and rounding up to the next measure, I will need 3 ½ yards cut. By the way, don't forget to account for seam allowances if your numbers are very close. You don't want to have to make a trip back to the quilt store later because you are shy the small amount needed for seam allowances.
Construction of this back will be simple. Cut the 3 ½ yards into two 1 ¾ yard pieces and stitch them together after removing the selvages. But the fun begins when you start looking at factors such as matching fabric patterns, directional patterns in fabrics, or pieced backings.
A 44" wide fabric with an overall pattern may be pieced horizontally or vertically, and you may like the look of the pattern where the fabric pieces are seamed. The seam may be barely noticeable with some fabric patterns, and yet scream "Ugly!" with other patterns. What is acceptable is up to you. How important is the look of the back to you? Maybe the quilt is planned to be a picnic quilt and it doesn't matter at all, or maybe the quilt is one that you believe could be an award-winning quilt if you put enough care into the back. You decide. If you want something more than two pieces seamed together, then there are some alternatives.
Are you working with a fabric that has a pattern that can easily be matched? Here are two fabric patterns that I've successfully matched and you likely will not realize that the quilt's backing was seamed.
There are many fabric patterns that can easily be matched for a seamless look. You may notice that the herringbone patterned fabric is also a directional fabric. Consider using the direction of the pattern to create a unique back. An easy way to do this is to alternate the direction in the two halves, or even consider piecing it from wide strips that alternate directions. Another way you could piece a back when you are working with a square quilt is to cut four equal sized squares, and rotate the directions from one block to another. Use your imagination and you will be amazed at what you can design.
Have you considered a pieced back using one or more patterns and/or colors? A simple way to hide a seam is by making it intentional. If you know you must include a seam, choose another fabric color and/or pattern to add a strip between the two pieces. (You decide how wide you want it.) And if you are really adventurous, add another in the opposite dimension (i.e., so that one strip is horizontal and the other is vertical). You can position the strips so they are crossed by positioning their intersection right in the middle, or you can place them somewhat offset from the edges of the finished back. (Again, you decide the offset.)
Another method is to draw attention away from the seam with something of interest. Maybe the point of interest is just a simple rectangle or square of a contrasting color or a different fabric pattern. Decide the size and where you want to place it. As an alternative, the insert could be an extra block from the pattern you used on the quilt top.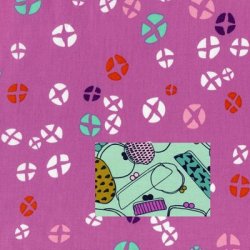 One more method to mention – make it reversible. You can make two quilt tops exactly the same, or make two different quilt tops. When you do this, though, talk to your longarm quilter first if you are having it machine quilted. Likely you will want one that is 4" larger than the other that will be trimmed after the longarm quilting is finished before binding. Or you can birth the quilt (sew most of the outside edges leaving a opening to turn it) and then both top and back can be the same size. Only your imagination will limit the possibilities.
So I challenge you to be creative and see where it leads you!



Barb Bergquist along with husband, Ron, own A Block Away Quilt Shop. A dedicated quilter with more than 25 years of experience, she is now actively sharing her love of quilting through the work in her shop.