2016 Mystery Quilt Week 6
By Barb Bergquist
This is it! I'd ask for a drum roll, but, to be honest, I'm not showing the complete picture until we get through these last clues. Today, we will connect the four sections to make a block, and then sew together the blocks into the finished top. So without further ado, let's get started.
The Block
1. Sew
Section 2
to the right side of
Section 1
with right sides together. Press the seams towards
Section 2
.
BEFORE



AFTER


2. Sew
Section 3
below the
Section 1
and
Section 2
unit with right sides together, pressing the seams toward the
Section 1
and
Section 2
unit.
BEFORE
AFTER


3. Sew
Section 4
below
Section 3
with right sides together. Press the seams toward
Section 3
.
BEFORE
AFTER


4. Trim if necessary to 12 ½" x 12 ½".
5. Repeat steps 1 through 4 until you have 36 blocks.
The Pattern Block
You have probably gotten a pretty good idea of what this will look like now, and this will confirm your suspicions.
1. Sew the
Block
s in pairs so that
Fabric 4
is side-by-side in each pair. You will have 18 pairs when finished.
BEFORE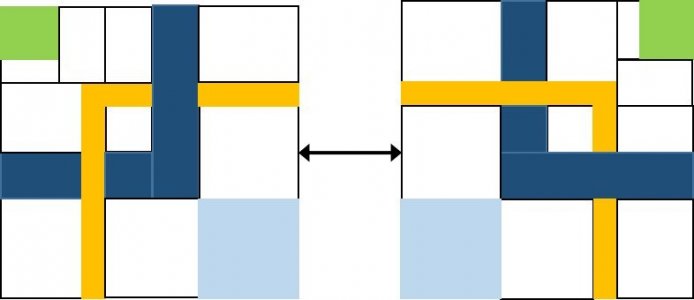 AFTER


2. Sew the pairs together, again placing
Fabric 4
side-by-side for your
Pattern Block
. You will have nine blocks when finished.
BEFORE

AFTER


The Quilt Top
This is the moment of truth! Let's continue…
Sew the Pattern Blocks together into three rows of three blocks, and Voila! You have it – your finished Mystery Quilt.


What's left to do is building your quilt sandwich, basting, quilting and binding. If you aren't sure how to complete these steps, check out my previously published posts on these subjects.
So what do you think? Do you like the pattern? Do you like the fabrics you chose? Do you think it would look better, or just different in other fabrics? Would you do another Mystery Quilt again? If you get a chance, please post pictures on A Block Away's Facebook page and let me know what you think.
And I want to give credit where credit is due. The pattern is from Stacey Day Quilts (https://staceyinstitches.wordpress.com/) and it is called Linked In. I got it through Craftsy (http://www.craftsy.com) as a free pattern. If you haven't visited their websites, check them out when you have time – great resources for quilters!
I hope you enjoyed this six-week journey to make a quilt which you don't know what it will look like until you complete it. It's time to call yourself an Adventurer. Until next time, may your time be happy when quilting!



Barb Bergquist along with husband, Ron, own A Block Away Quilt Shop. A dedicated quilter with more than 25 years of experience, she is now actively sharing her love of quilting through the work in her shop.